Image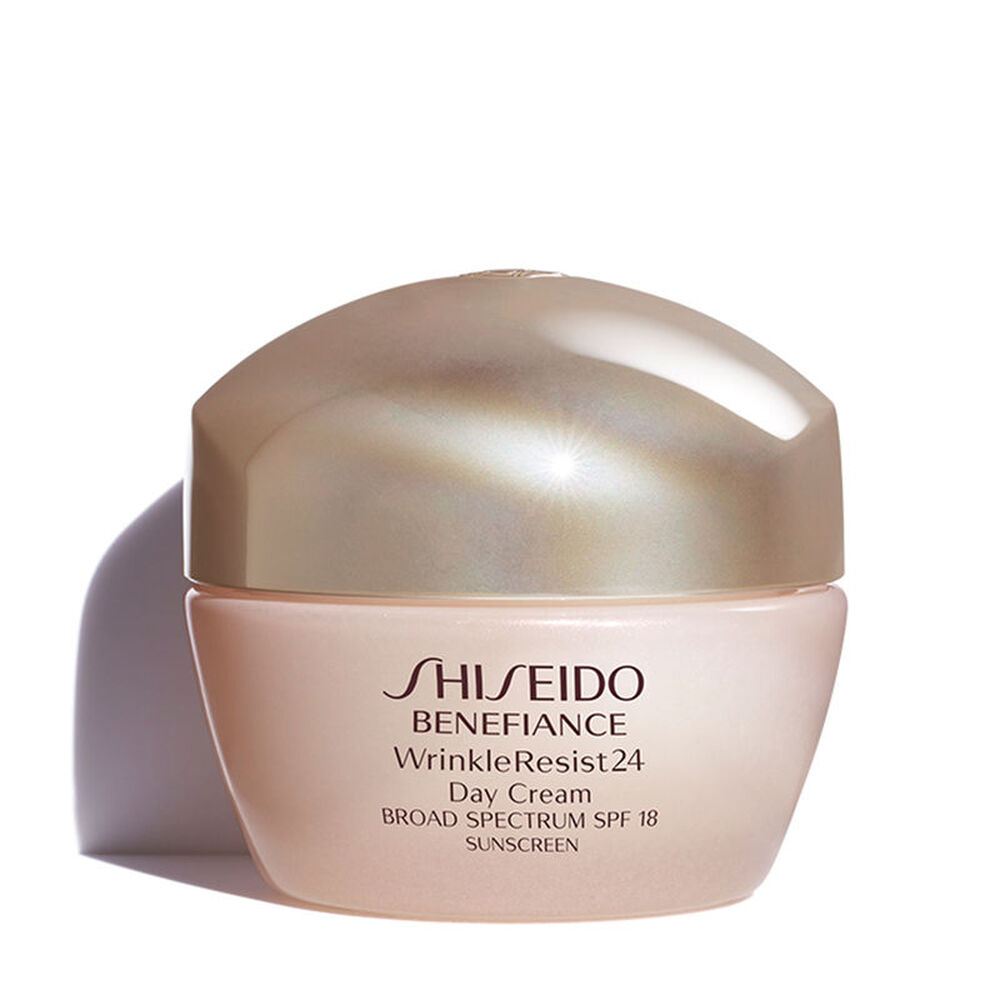 Zoom
BENEFIANCE
Wrinkleresist24 Day Cream
ge-defying benefit for youthful vibrance Discovery of the wrinkle-causing

...
mechanism* A remarkable discovery in the mechanism of skin aging leads to a Shiseido science breakthrough for counteracting the appearance of wrinkles and skin-aging. Extensive research identifies a specific enzyme that accelerates the formation of wrinkles and advances skin's aging process. Two effective solutions for wrinkle reduction Wrinkle-resisting solution Benefiance W-Resist24 is specially formulated with three effective ingredients, Mukurossi Extract*, Chlorella Extract** and Gambir Extract, which collectively inhibit damage caused by the wrinkle-triggering enzyme*** to help prolong and promote youthful looking, silky smooth skin. Wrinkle-smoothing solution Thanks to two effective ingredients, Super Bio-Hyaluronic Acid N, which promotes moisturizing benefits under dry conditions, and Hydroxyproline, which effectively stimulates collagen production***, Benefiance W-Resist24 diminishes the appearance of existing wrinkles and restores skin's youthful-looking glow day by day. Scent of relaxation and comfort With its unique Asian orchid fragrance, Benefiance W-Resist24 will transform your daily skincare routine into a beautiful experience of ultimate relaxation. 24 hours wrinkle-resist system Benefiance W-Resist24 provides daytime and nighttime care for maximum anti-wrinkle benefits. For the best results, use together with Cleansing Foam, Softener and Day and Night Moisturizers from this lineup.A rich foaming cleanser that gently removes impurities and excess surface cells which may contribute to signs of aging, without stripping the skin of its essential moisture. Foams instantly into a delicate, creamy lather, to make the skin feel moist and smooth. A comprehensive age-defying lotion that contains the effective ingredients to challenge signs of skin aging. By generously moisturizing the skin, this sumptuous softener instantly helps to retexturize your skin, making it more receptive to further skincare treatment. An age-defense daytime moisturizer that helps protect skin from damage caused by external aging factors such as UV rays. The appearance of lines and wrinkles are dramatically reduced, while maintaining rich moisture to the skin under even dry conditions all day long. An age-defying nighttime moisturizer that intensively addresses lines and wrinkles before they become more serious. Offers visible reduction in the appearance of wrinkles, and helps promote silky smooth skin condition while encouraging recovery by morning.
More
Details
/en/benefiance-wrinkleresist24-day-cream-1011030730.html
Reveal your clarity
and radiance
Optimize skin's inner defenses and enhance its strength from within. Reveal your clarity and radiance—now and into the future.